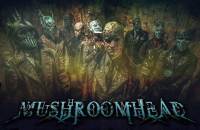 MIDWEST MIX-UP + APOLLO THEATRE +ARDENT ENT
MUSHROOMHEAD + HED PE
SCARE DON'T FEAR, UNSAID FATE, BAREKNUCKLE BULLSEYE
Time: 5:00pm Day: Sunday Ages: All Ages
This Event Has Ended
MUSHROOMHEAD

Mushroomhead is an American metal outfit that emerged in the 1990s. Mushroomhead's forceful yet melodic alternative metal incorporates elements of hip-hop, as well as industrial metal.

Formed by drummer Skinny in 1993, Mushroomhead was originally a side-project for members of other Cleveland bands. They played their first show on October 22nd of that year. The members wore a variety of masks to hide their identity and for theatrical impact. One of the vocalists, J Mann, eventually stopped wearing a mask and just put white make-up on his face with black make-up on his mouth and around his eyes, similar to make-up worn in the movie Dead Presidents.

Mushroomhead quickly became one of Cleveland's top local acts and developed a devoted fanbase. Mushroomhead's self-titled debut album was released independently in 1995, followed by Superbuick in 1996 and M3 in 1999. Over the course of those 3 albums the band had several line-up changes: Bassist Mr Murdernickel was replaced by Pig Benis after the first album, female dancer Roxy left, guitarist Dinner was replaced by Gravy, male dancer Bronson went to playing samples and then took over as 2nd Guitarist when J.J. Righteous left. During this time Mushroomhead was the #1 underground band in Cleveland.

Roadrunner Records approached Mushroomhead with a record contract which they declined.

HED PE

Hed P.E., previously known as (hed) Planet Earth and stylized as (həd) p.e. is a rapcore band from Huntington Beach, California. Formed in 1994, the band performs a style of music which they refer to as "G-punk". Their music is primarily based in a fusion of punk rock and hip hop, but they have also been known to incorporate elements of heavy metal, reggae and other genres. After releasing three albums on Jive Records, Hed PE left the label to record independently, eventually signing with Suburban Noize Records in 2006. To date, they have released seven studio albums, one live album and one compilation album.

The band was formed by rapper Jared Gomes, also known as "M.C.U.D." (MC Underdog), and guitarist Wes Geer, who became friends amidst the Orange County hardcore punk scene. Gomes and Geer recruited guitarist Chizad, bassist Mawk, drummer B.C. Vaught and DJ Product © 1969. They named the group "Hed", which stands for "higher thought". The band built a following with their energetic performances at local venues, and released the self-financed extended play, Church of Realities. Legal issues forced Hed to change their name, adding "PE", which stood for "Planet Earth".

Hed PE signed with Jive Records, releasing their self-titled debut album in 1997. In his review of the album, Allmusic's Steve Huey wrote that Hed PE " rhythmically looser and funkier than many similar rap-metal bands, although comparisons to Rage Against the Machine are still apt. There are some slow and/or unfocused moments but overall, its aggression will probably play well with late-'90s metal and punk fans.